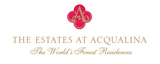 The Estates at Acqualina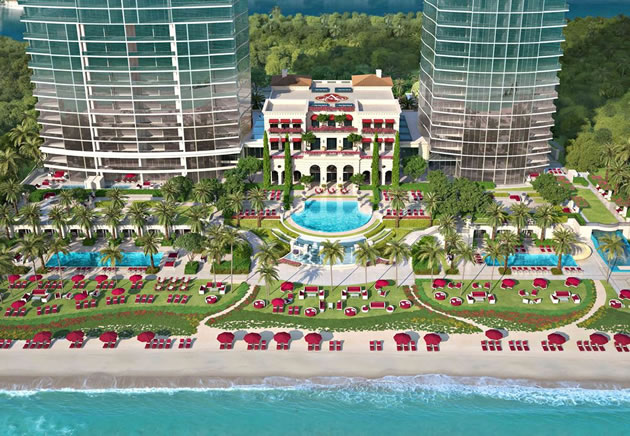 Location: 17901 Collins Avenue - Sunny Isles Beach, FL 33160
The Estates at Acqualina
SPLENDOR BY THE SEA: A CELEBRATION OF ART, ARCHITECTURE & LIFE
Conceived as the World's Finest Residences® at the World's Finest Resort, The Estates at Acqualina will offer Miami's most exquisite oceanfront living experience. From unrivalled indoor and outdoor amenities and furniture-ready estate-sized residences with the finest appliances and sweeping Atlantic Ocean views, to Five-Star hotel-style services and astonishingly beautiful lobbies, designed by Karl Lagerfeld, residents will enjoy a lifestyle beyond compare.
In the decision to extend the Acqualina brand and create The Estates at Acqualina, The Trump Group is building not only on its past successes, but on its passion for developing "the world's finest residences." This exceptional collaboration between leading developer, architects, designers and hoteliers ensures The Estates at Acqualina will deliver an exquisite living experience within a private gated community. The Estates at Acqualina will introduce a new residential experience to Miami's Sunny Isles Beach. Located at 17901 Collins Avenue, the two boutique towers will feature a lobby designed by Karl Lagerfeld, the first condominium project in the United States to involve the iconic designer.
The South Tower, 777 Via Acqualina, will offer 154 exquisite residences ranging from 3200 to 5600 square feet and will rise adjacent to the Five Star Acqualina Resort & Spa on the Beach. In addition, it will feature two single family homes and two, two-story penthouses ranging from 6225 to 9000 square feet – all with private leisure pools. The South Tower will feature expansive terraces framing immense living and entertainment areas boasting modern luxuries including private saunas and spas as well as summer kitchens. The North Tower, 888 Via Acqualina, will be completed at the same time and feature 91 residences.
The Estates will also feature Villa Acqualina, an additional 50,000 square feet of remarkable amenities that will welcome residents to their new home. The Villa is located between the two boutique towers and will personify an all-encompassing residential destination that evokes a sense of familiarity as residents drive through lush landscaping and a beautiful gatehouse that offers a feeling of security and exclusivity.
Construction began in May 2018, and is expected be completed by end of 2020.
The Estates benefits from its sister developments, Acqualina Resort & Spa on the Beach and The Mansions at Acqualina. The legendary service by Acqualina Resort and Spa, a Forbes Five Star and AAA Five Diamond Hotel, only one of 97 hotels worldwide which have been honored with both distinctions, ensures that The Estates at Acqualina delivers ultimate perfection and a unique experience on every level.
Acqualina Resort & Spa is a member of The Leading Hotels of the World and was cited as one of Andrew Harper's Reader's Choice Top 20 beach and family resorts in the world, and is a Fodor's Gold Award recipient. This excellence in hospitality provides a unique underpinning for The Estates at Acqualina and is anticipated to elevate life to an unprecedented level of opulence.
THE ESTATES GROUNDS AND GARDENS: A 5.6 ACRE PRIVATE SEASIDE OASIS
Designed exclusively for residents and their guests, The Estates' "backyard" is a lushly landscaped arena for celebrating the sporting life…or observing it from the meticulously manicured sidelines. The magnificence extends to the beautifully curated gardens featuring multiple infinity pools, a FlowRider® for surfers, a basketball court, a romantic beachfront restaurant and bar, and 502 feet of Atlantic oceanfront on a 5.6 acre site with all the benefits of Acqualina's five-star lifestyle. Residents can enjoy the sun's splendor and dip into the cool ocean in an atmosphere of absolute privacy, which is unparalleled in South Florida. The experience will only be amplified as Villa Acqualina's utmost service will be extended to the water's edge for residents to enjoy drinks and dining on the beach.
VILLA ACQUALINA: 50,000 SQUARE FEET OF AWESOME
The Estates at Acqualina will feature an impressive Villa Acqualina with more than 50,000 square feet of remarkable facilities including a spa and fitness center, one of a kind dining with a world renowned restaurant and Circus Maximus, a full floor of magical amenities including an ice skating rink, a Formula One simulator, a golfing simulator, bowling lanes, a movie theater, and a Wall Street Trader's Club room where residents will have access to ticker tape, computers and a boardroom. Villa Acqualina has something for everyone, creating a never-before-seen ocean-side lifestyle.
THE LOCATION: ACCESS TO EVERYTHING THAT MATTERS
Located at the epicenter of Miami's glamour, beauty and excitement, The Estates at Acqualina's Sunny Isles Beach neighborhood is a prime central location, providing a private oasis for residents while still being in close proximity to the best that Miami has to offer.
From venues small and intimate to the grand and spectacular, the area surrounding The Estates has clearly become a major player on the world's cultural stage. Two international airports. Art Basel. Bal Harbour Shops. Aventura Mall. The Performing Arts Center. International boat shows. The Art Deco District of South Beach. The central business district of Downtown Miami/Brickell. At The Estates at Acqualina you can be part of the mix, or apart from it – as you choose.
INTERIOR DESIGN: ATTENTION TO DETAIL AT EVERY LEVEL
One of the outstanding features of The Estates at Acqualina is that each residence will be delivered in furniture ready condition, thus saving the owner not only cost and aggravation, but also the one year that it usually takes to finish such a residence.
Each owner will be given the opportunity to work with a renowned Interior Design firm to select from tastefully composed palettes offering an uncompromising attention to detail and style. Each residence at The Estates at Acqualina will be designed to these exacting standards.
The palettes will have an impressive selection of complementary and carefully balanced marble, sourced from some of the finest quarries in the world. Each palette produces the perfect foundation on which residents can imprint their own interior design personality thus calling this residence, home.
THE LOBBIES: WORLD-CLASS DESIGN BY KARL LAGERFELD
Through an exclusive partnership with one of the world's most celebrated designers, the entrance lobbies at The Estates at Acqualina will be designed by none other than Karl Lagerfeld. As the current head designer and creative director of Chanel, Fendi and Karl Lagerfeld's eponymous fashion label, Mr. Lagerfeld's design and style will further enhance the grandeur of two of the most important spaces at The Estates.
Mr. Lagerfeld's lobbies will not only provide the first impression of the building and project, but also serve as a common living room where residents can socialize and relax in style.
The Estates mark the first interior design project in the United States for the designer and will reflect his iconic style and eye for detail, with custom features, finishes and furnishings conceived and designed by Mr. Lagerfeld himself. The designs of both lobbies will be inspired by the aesthetic of each space and the building as well as by the destination of Florida.
DEVELOPER: AN UNWAVERING COMMITMENT TO CUSTOMER SERVICE
A3 Development, LLC, an affiliate of Eddie, Jules & Stephanie Trump, is the developer and owner of The Estates at Acqualina (no relation to the US president). They have developed several successful top-end real estate properties, starting in 1985 with the creation of Williams Island in the exclusive Aventura, Florida. This complex of eight high-rise towers, a charming Mediterranean village, and suite of resort and club amenities, was one of the first developments of its kind in South Florida. Their development portfolio includes the Acqualina Resort & Spa in Sunny Isles Beach, The Mansions at Acqualina, and Luxuria Residences, a Luxury condominium situated on the ocean in Boca Raton, both in Florida as well as extensive land holdings and developments in California. The Trump Groups' vision of The Estates at Acqualina was to create a unique lifestyle that will set it apart from the rest of the world. The Acqualina Brand, an iconic name which is transforming the South Florida skyline forever with a residential enclave whose beauty, luxury, and service place it in a class of its own on a worldwide scale.
The Amenities
· Ice-skating rink
· Formula One racing simulator
· Speakeasy Night Club
· Golf simulator
· Wall Street Trader's Clubroom
· Cigar Lounge & Billiards room
· Bowling alley with 4 lanes
· Oceanfront ballroom
· 5 Star Restaurant
· Teen game area
· Children game area
· Gym
· Boxing Ring
· Yoga Studio
· Cycling Studio
· Spa with plunge pools and sault room
· Refreshment center
· Wine Room
· Private poolside cabanas
· Bocce court
· Basketball Court
· Sculptured art gardens
· Outdoor pool table
· Meditation areas
· Movie-screening theater
· Children's play area
· Relaxation lounge
· Zero-entry, infinity-edge and adults-only pools
· Kids Pool with slides
· FlowRider® surfing simulator
· Soccer field
· Walking and jogging trails
· Dog park
Floor Plans & Additional Photos

More Info
Price List |

FOR MORE INFORMATION CALL NOW!
Price list for this property is currently available upon request. Call or email me today for updated pricing information, availability, and current offers for this new property.


Disclaimer: ORAL REPRESENTATIONS CANNOT BE RELIED UPON AS CORRECTLY STATING REPRESENTATIONS OF THE DEVELOPER. FOR CORRECT REPRESENTATIONS, MAKE REFERENCE TO THE DOCUMENTS REQUIRED BY SECTION 718.503, FLORIDA STATUTES, TO BE FURNISHED BY A DEVELOPER TO A BUYER OR LESSEE. All artist's or architecturalrenderings, sketches, graphic materials and photos depicted or otherwise described herein are proposed and conceptual only, and are based upon preliminary development plans, which are subject to change. This is not an offering in any state in which registration is required but in which registration requirements have not yet been met. THIS IS NOT AN OFFER FOR CONTRACT OR SALE IN THE STATES OF NY, NJ OR MASS.
*NOTE: ALL DESCRIPTIONS, FEATURES AND DETAILS ARE PROPOSED ONLY AND SHOULD NOT BE RELIED UPON AS REPRESENTATIONS, EXPRESS OR IMPLIED, OF THE FINAL DETAIL OF THE RESIDENCES OR THE OVERALL PROJECT. THE DEVELOPER RESERVES THE RIGHT TO MODIFY OR REVISE ANY OR ALL OF THE SAME IN ITS SOLE DISCRETION AND WITHOUT PRIOR NOTICE. WITHOUT LIMITING THE GENERALITY OF THE FOREGOING, THE DEVELOPER RESERVES THE RIGHT TO SUBSTITUTE ANY OF THE FOREGOING WITH ITEMS WHICH, IN DEVELOPER'S OPINION, ARE MATERIALLY SIMILAR IN FUNCTIONALITY (REGARDLESS OF COST OR AESTHETICS). ALL MILLWORK PANELING, THE FLOOR TO CEILING MARBLE SLAB IN THE KITCHEN, AND DESIGNER LIGHTING FIXTUES ARE DESIGNER UPGRADES AND ARE NOT STANDARD. CERTAIN ITEMS, IF INCLUDED WITH THE RESIDENCE, SUCH AS MARBLE, STONE, GRANITE, TILE, WOOD AND OTHER NATURAL MATERIALS ARE UNLIKELY, BECAUSE OF THE CHARACTERISTICS OF THE PRODUCTS, TO BE DUPLICATED AS SHOWN IN ANY MODEL RESIDENCE. PURCHASER SHOULD EXPECT SIZE, COLOR, GRAIN AND QUALITY VARIATIONS, INCLUDING, WITHOUT LIMITATION, CHANGES AND VARIANCES IN THE SIZE OF SLABS, TILE AND/OR OTHER MATERIALS UTILIZED IN THE RESIDENCE. CEILING HEIGHTS ARE MEASURED AS PROVIDED ABOVE. AS A RESULT, ACTUAL CLEARANCE BETWEEN THE TOP OF THE FINISHED FLOOR COVERINGS AND THE UNDERSIDE OF THE FINISHED CEILING, DROP CEILING OR SOFFITS WILL BE LESS. ALL CEILING HEIGHTS ARE APPROXIMATE AND SUBJECT TO CHANGE. IN ADDITION, CERTAIN ITEMS SUCH AS THE FOLLOWING, WHICH MAY BE SEEN IN MODEL RESIDENCES (IF ANY), BROCHURES OR IN ILLUSTRATIONS, ARE NOT INCLUDED WITH THE SALE OF THE UNIT IF NOT OTHERWISE DESCRIBED AS PART OF THE STANDARD FINISHES: WALL COVERINGS (INCLUDING PAINT OTHER THAN BASE PRIMER), ACCENT LIGHT FIXTURES, WALL ORNAMENTS, DRAPES, BLINDS, FURNITURE, KNICKKNACKS AND OTHER DECORATOR ACCESSORIES, LAMPS, MIRRORS, GRAPHICS, PICTURES, PLANTS, WALL-HUNG SHELVES, WET BARS, INTERCOMS, SOUND SYSTEMS, KITCHEN ACCESSORIES, LINENS, WINDOW SHADES, CERTAIN BUILT-IN FIXTURES, CABINETRY, CARPETS OR OTHER FLOOR COVERINGS AND COLORS, WOOD TRIM, OTHER UPGRADED ITEMS, PLANTERS, WINDOW SCREENS, LANDSCAPING AND ANY OTHER ITEMS OF THIS NATURE WHICH MAY BE ADDED OR DELETED BY SELLER FROM TIME TO TIME. THIS LIST OF ITEMS (WHICH IS NOT ALL-INCLUSIVE) IS PROVIDED AS AN ILLUSTRATION OF THE TYPE OF ITEMS BUILT-IN OR PLACED IN THE MODEL RESIDENCES (IF ANY) OR SHOWN IN ILLUSTRATIONS STRICTLY FOR THE PURPOSE OF DECORATION AND EXAMPLE ONLY. ITEMS SUCH AS THESE WILL NOT BE INCLUDED IN THE RESIDENCE UNLESS SPECIFICALLY PROVIDED FOR IN A WRITTEN ADDENDUM TO THIS AGREEMENT SIGNED BY BOTH BUYER AND SELLER.